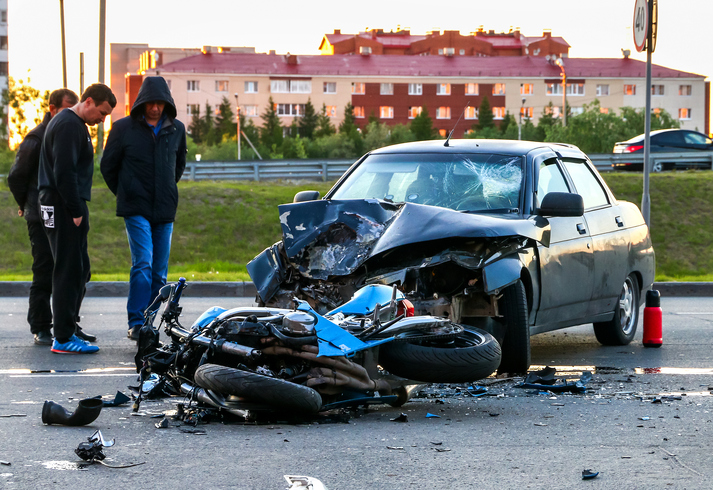 Considering the large number of people who, out of the need to avoid traffic, have abandoned their cars and regularly use motorcycles and mopeds, or who, simply out of a passion for two wheels, travel many kilometers on their motorcycles, the number of motorcycle accidents can only be high.
The Season
The motorcycle season usually starts in March and continues – depending on the weather – into October or November. In particularly mild temperatures, two-wheelers can still be found on U.S. roads in winter.
The Cause
Contrary to popular belief, most motorcycle accidents are often caused by the negligence of those behind the wheel of other cars or by road anomalies, and not by the motorcyclist himself:
Involvement of a car or truck:very often motorcyclists are bumped when drivers of cars do not see it coming, cut off the road or do not give way to the motorcycle, do not keep the safety distance, open the doors without looking or incorrectly estimate the speed of the motorcycle.
Road Anomalies: Accidents can be caused by potholes, poor drainage, insufficient signage, objects on the road, collapsed roadside, or any other roadside pitfall.
Loss of control of the motorcycle: excessive speed of the motorcyclist or driving behavior unsuitable for the type of road being traveled.
Fatal Accident Prevention
Of course, a fatal motorcycle accident can also be prevented. Motorists in particular should watch out for two-wheelers in traffic. But motorcyclists can also prevent a motorcycle accident by observing the following points:
Attention: Behave proactively and attentively towards other road users so that you can assess and possibly even avoid a dangerous situation in an emergency.
Speed: Too high speed triggers serious motorcycle accidents most often. You should, therefore always adapt your pace to the traffic regulations and the weather. If the road surface is wet, you should drive more slowly and maintain a greater safety distance.
Types of Wound
Accidents involving motorcycles often result in more serious injuries than those suffered by drivers of other vehicles. The most common types of injury can involve:
Back and neck: fractures to the vertebraerepresent one of the most serious damages, especially when there is damage to the spinal cord and consequent motor problems (paresis).
Fractures: the most common bone fractures are those in the arms, legs, ankles, collarbone, or even facial ones, such as the nasal septum. Skull fractures, unfortunately, are not unusual in motorcycle accidents and are very serious.
Burns: the friction caused by body contact with the roadway can cause first, second, or third-degree burns.
Amputations:  in very serious road accidents, victims can often suffer severe limb injuries due to an impact on obstacles on the roadway, think of guard rails. Injuries of this nature can lead to partial or complete amputations.
Polytrauma:  often, in the case of serious road accidents, it is in the presence of polytrauma, or one or more traumatic injuries to different organs or systems with the current or potential compromise of vital functions.
Conclusion
If you have been the victim of a motorcycle accident, and the responsibility is wholly or partly attributable to the other driver, you are entitled to be compensated for damage to the vehicle, injuries sustained, current medical expenses and for future treatments in addition to any damage from loss of earnings due to inability to work. It is best to seek the advice and legal representation from a personal injury lawyer in your local area.