Factors Contributing To Rollover Truck Accidents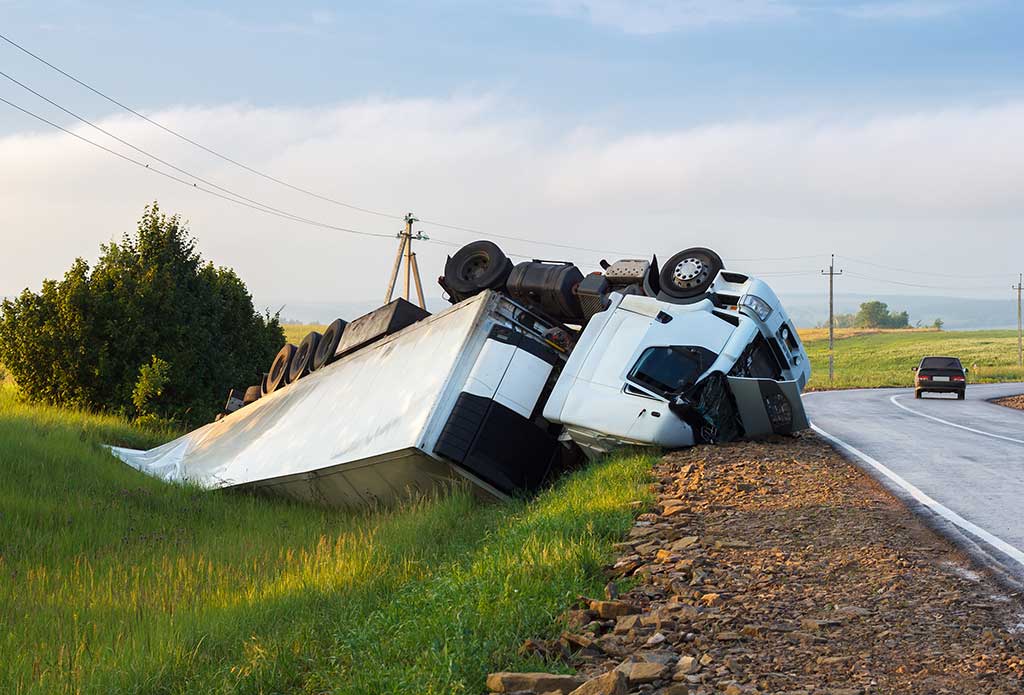 According to estimates, there are about 400,000 truck accidents in the US every year. Many of these accidents involve trucks rolling over and causing injury. Some of the worst trucking accidents involve situations where a truck has turned over onto its side or roof.
Often, when a rollover accident occurs, other vehicles are crushed beneath the rolled-over truck, or spilled cargo creates dangerous obstacles on the road. Also, rolled-over trucks can cause other accidents because they can block many lanes, leading to multi-vehicle pileups.
Suppose you've been a victim of a rollover truck accident. In that case, you might want to work with an attorney to determine the cause of your crash, as this can help pinpoint liability and get you a step closer to securing compensation.
Below, our team from Hancock Injury Attorneys has shared a few of the common contributing factors to rollover truck accidents to give you a better idea of their causes. Armed with this knowledge, you can build a stronger case.
Four Common Factors in Rollovers
Although there are far more than four contributing factors to rollover truck accidents in the US, we want to share the below causes as they are often the most common.
If any of these factors were the reason for the rollover truck accident you were involved in, you should speak to one of our attorneys about your options.
1.    Inattentive Driving
An insightful FMCSA study identified that inattentive driving is the second leading cause of truck rollover accidents in the US. Inattentive driving can encompass many things, but for truck drivers in particular, rollover accidents occur when drivers lose focus on the front of their trucks.
Other inattentive driving actions that can lead to truck rollover accidents include when drivers try to make a quick maneuver when they shouldn't and when they are drowsy and get easily distracted.
2.    Speeding
In more than 35 percent of rollover truck accidents, speed was the factor that caused them, according to an FMCSA truck causation study. Often speed will lead to truck rollover accidents when drivers drive too fast when entering or going around curves and when they travel too fast for sharp turns.
Additionally, speeding is known to result in rollover accidents when truck drivers don't follow speed warnings and don't slow down to adjust to the cargo loads they are transporting.
3.    Bad Road and Weather Conditions
Poor road and highway conditions and bad weather often lead to rollover truck accidents. This is because unfavorable road conditions can make it incredibly difficult for truck drivers to drive safely.
Some of the road and weather conditions that are particularly dangerous and commonly lead to rollover incidents include:
Debris and road bumps.
Winding roads and sharp curves.
Steep inclines and downhills.
Poorly maintained road shoulders.
Ice, sleet, and snow.
Flooding
These are only a few bad highway and weather conditions that can lead to rollover accidents. That's why drivers must keep an eye on the road and the weather to ensure their safety and the safety of others.
4.    Poor Truck Maintenance
Every truck driver and their respective company must conduct routine truck maintenance to ensure it is safe to be out on the road transferring goods. Before every trip, a driver needs to inspect their truck to catch any potential issues before they create a problem.
Unfortunately, in many instances, rollover truck accidents have occurred when the following truck components haven't been routinely maintained:
Worn brakes
Unaligned steering
Worn tires, rims, and wheels
Ineffective windshield wipers
Cracked windscreens
Broken rearview mirrors
Faulty lights and reflectors
Missing emergency equipment
One of the first things an attorney will do is investigate the truck to determine if it was properly maintained or if its poor condition was the cause of the rollover accident that led to your injuries. With this information, they can further your chances of obtaining fair compensation.
Contact A Florida Truck Accident Attorney Today To Discuss Your Rollover Accident
Truck rollover accidents are often serious and leave individuals with minor to major injuries. Fortunately, many truck rollover accident victims are eligible for monetary compensation to cover injuries and damages. A Florida truck accident attorney will know what elements to look for and can provide legal guidance.
If you or someone you love has sustained injuries in a rollover accident, please contact Hancock Injury Attorneys for help. Our lawyers can work with you by examining your case, determining liability, and fighting for your rights. So let us help you earn restitution for your losses.